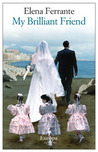 My Brilliant Friend by Elena Ferrante
My rating: 5 of 5 stars
(Perhaps some spoilers ahead, though nothing major.)
Nothing much happens in "My Brilliant Friend," the first of Elena Ferrante's Neapolitan novels. Two girls meet as children; they grow up; they grow apart; they grow together; and then one of them gets married. There are contentious episodes featuring shoes, a frightening incident in a beach house, a few violent acts. (In one case, a girl gets thrown through an open window.) The novel concludes with the wedding and promise of more to come.
Then why did I love it so much?
Part of it is the ending. Wow. I love books that lead up to perfect last lines – "Fifth Business" and "A Prayer for Owen Meany" come to mind – and this is another. I won't reveal it except to say I felt unexpectedly punched in the gut.
But most of it is Ferrante's voice. She is matter-of-fact, unsentimental. The book is told from her point of view – the character is even named Lena, though if recent news is to be believed the novel isn't even a roman a clef – and though there are occasional outpourings of emotion, she keeps a clipped distance from the proceedings. Her style is filled with what most editors would consider run-on sentences, filled with commas that could be periods, and yet it works – a stream of consciousness that holds together as if knotted in steel.
It's Lena, it turns out, who is the "Brilliant Friend" of the title. Her friend, whom she rarely fails to admire as equally brilliant, is Lila, the daughter of a working-class shoemaker. They're both bright girls, but only Lena stays in school; Lila, for various reasons, drifts away from her studies. It's the 1950s and early '60s, a time when Italian girls apparently weren't expected to stay in school. Still, that's one of the few ways Lila adheres to convention; she's a woman ahead of her time. She is tall and beautiful and fearless; she's in no rush to marry and wonders if she should; her attitude intimidates the boys of their apparently run-down neighborhood, though they're all equally in love with her. Lena, on the other hand, wonders when she'll find love. She has a boyfriend who's more of a friend, and an older boy she moons over from a distance.
I struggled to keep the characters straight, but no matter. Some of the boys remain boys – Ferrante manages to capture a certain barbarian impulsiveness that is almost a caricature of Italian men, though their willingness to pull out fists and knives (and even an occasional gun) seems all too believable. There are the wealthy Solara brothers, who drive around in their very own car and consider themselves neighborhood princes. There's a mentally disturbed widow and angry siblings and caring, if firm, schoolteachers. I have no vision of the physical neighborhood itself – does it look like something out of the 17th century or more like a hastily created streetcar ghetto of the 1930s? — but I can see these people bickering and shopping and tentatively reaching out to one another, only to perhaps be rejected, setting off fury anew.
There are a couple events that remain in my mind. One involves a "perfect" pair of shoes designed by Lila and built by her hotheaded brother, Rino, and her father. They're the ostensible reason for her eventual marriage; they symbolize the tensions in the family; they even represent her. The shoes are surrounded by the most ferocious arguments. One can only wonder where they'll go next.
The other is Lena's summer trip to the Italian coast, where she pines over Nino, the son of a train conductor who fancies himself a writer. (The conductor, that is, though Nino can write, too.) Nino keeps his distance; his father is another matter. Ferrante's evocation of the summer somehow seems like a time set apart. She's aware of growing up, yet also aware that she's still a teenager.
Indeed, I often had to remind myself that most of these characters are teenagers. Lila, described as achingly beautiful but also disturbingly distant (even to Lena), is 16 when she marries. The boys are mostly younger than 18. Even the parents, who seem worn down by life, are in their 40s at most.
Ah, I wish I could make more sense in this review.
Perhaps "My Brilliant Friend" has rubbed off a bit in the wrong way. The book sometimes seems careless, as if Ferrante were pulling the memories out of her head unwillingly and plopping them down on the page to edit later, but never did. (In particular, the opening of the book makes a virtue of this artlessness.)
But don't be fooled. I may not be getting at my points very well, but she knows exactly what she's doing. And, like Lena does with Lila, I can only sit back and admire.