Last week my wife and I watched all seven episodes of "World on Fire," the British miniseries about World War II that's just now airing on PBS. More than once, watching Polish freedom fighters shoot Nazis or flee into the woods to fight another day, I thought: I could never do that. I would be dead a dozen times over. Somehow, they kept going.
—
Crises, it is said, bring out the truth in a person's personality. The coronavirus pandemic has inspired countless acts of heroism, especially from medical personnel who are literally putting their health on the line every day. (It has also revealed that there's nothing underneath That Orange Thing in the White House besides more anger, fear, bitterness, and a desperate craving for attention.)
I've read a lot about the virus and the disease – sometimes out of a determination to educate myself, sometimes out of the kind of curiosity equivalent to peeking through your fingers at a horror movie. I can't make sense of it. I'm not sure anyone has. (If they have, please point me in their direction.)
Here's what I know:
—
Social distancing, though challenging, is doing its job. In many places it's flattened the curve to some degree. The point of flattening the curve was to ease the load on hospitals and healthcare providers. It doesn't mean that, now that we've flattened the curve, we can just go back to the way things were. The 1918 Spanish flu had three waves in the United States. The worst was the second one.
—
I'm scared. How can you not be? I'm 55 and, though in pretty good shape, I'm certainly not as trim and vigorous as I was in college. I try to get out for a 20- or 30-minute walk twice a day. It helps that it's spring and the weather has mostly been pleasant.
But I find that when I go to the supermarket I'm practically running through the place, as if I could dodge coronavirus particles like raindrops. (And good luck dodging raindrops.) I made a homemade mask a couple days ago because it's been impossible to find them and I don't expect that to change. I know it's supposed to protect others from me – not the other way around – but it didn't make me feel any better either way.
The stories of dying alone, to be stacked in portable morgues, are too much to bear.
—
And though I'm worried what will happen if I get the virus, I'm even more worried about my wife, who survived a bout with thyroid cancer in her 20s, underwent multiple rounds of radiation and chemotherapy, and has a weakened immune system. A few years after her initial treatment for thyroid cancer she happened to pick up chicken pox from an irresponsible colleague's child. She was feverish and laid up for several days, making me wonder if I should take her to the hospital. And that was for chicken pox.
I try not to think about it, but it's hard not to.
—
I look at the pictures of the protesters in Minnesota, Michigan, Ohio, and Virginia. They are yelling and not following social distancing guidelines. I wonder if they've given the disease to each other. I wonder if they'll give it to me.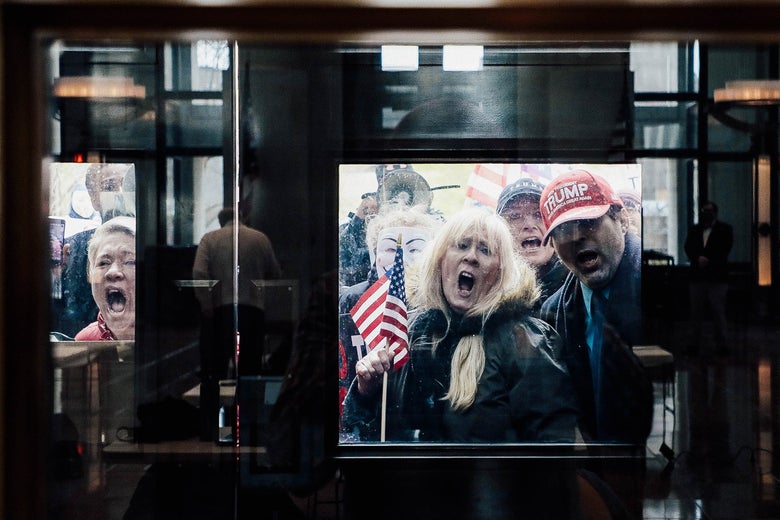 —
Will Leitch, the wonderful writer about sports and other things, puts out a weekly newsletter. This week, he talked about how he's been reading every book about 9/11 and how the shape of the 9/11 story established itself only a few years after the event. That day, and the days after, we didn't know if there were going to be more attacks, more chaos, more death.
Now we're barely a couple months in the Covid crisis and people already want to turn to the end of the book to see how it comes out. I can't blame them – it's terrifying, and not only do we not know the ending, we don't know how messy the chapters in between will be – but it's better to try to focus on the immediate. Which means social distancing, compassion, being careful in public places.
As Will says, "We're all reeling from trauma, and not only do we not know when the next trauma is coming, we don't even know if the last one is over yet. There's nothing to get your arms around. It's trying to grasp smoke."
—
I miss baseball. Here's one of my favorite moments.
—
I'm doing OK. Working from home hasn't thrown me much. I was a free-lance writer for most of the '90s, so many of my days were spent in a corner of my bedroom, trying to pound out stories so I could eat and pay rent. This is just those days again, except this time I'm fortunate to work for a company that has been deemed a necessary business, so my paychecks are regular. I'm also fortunate that the company is private and financially conservative, and that combination of thrift and not having to serve idiot masters on Wall Street has served it well.
—
Which brings me to the most schadenfreude-y moment I've had in the last few days. In the most recent New Yorker, Nick Paumgarten writes about some sociopathic financiers who are trying to make a buck off the pandemic. This passage, about one group that believes the world is overreacting, couldn't help but inspire a bitter laugh:
The Fokkers found it hard to let go of the conviction that the crisis was overblown, and that the shutdown could do more harm than good. One of the more clamorous champions of this opinion went quiet for a while, as he battled the virus at home, in some terror over his mounting inability to breathe. Another had a cousin on a re-breather, a firefighter who'd worked the pile at Ground Zero. And yet within a week both of them were sharing a wish that there were a way to short the price of ventilators in June or September, in the belief that we wouldn't need nearly as many as the governors of the most beleaguered states were claiming.
This can't help but make me think of That Orange Thing. And also how they'd react if an asteroid was on its way to a direct hit. Would they invest in water futures? Gas masks? Asbestos?
—
We've come a long way since the Black Plague of the 14th century, or even the Spanish flu. In spite of humanity's ongoing burden of war and inequality, I'd like to think we have a more profound appreciation of life. I hope this thing passes without much more loss, and when we do start rebuilding the economy, we also rebuild society – universal healthcare in the U.S., measures to address inequality, more compassion.
One can always hope.
—
This song came up in a comment board I contribute to. I probably hadn't heard it since it came out in 1980, and even when I did hear it, I imagine it was lost amid the wash of other subdued melodies and early synthesizer hits. It sounds like something that would get lost in the middle reaches of the Top Forty. (It peaked at No. 18.)
Now, though, I hear longing and loss and a bit of wisdom. It may sound like it's about the end of a relationship, but songwriter James Warren says that wasn't the case.
"For me it was all about an individual changing and being a different sort of person – trying to find out the root of your inner confusion, dealing with it and becoming a better person," he said.
That's the challenge, isn't it?